Fluid filling systems
As partner of the car manufacturers and equipment suppliers, Soderel designs, manufactures and installs fluid filling equipment for all media in the vehicle. Our solutions, which can be adapted to the production rate of each assembly line, integrate new procedures, in order to guarantee you the adjustment of your plants to the new market's demands.
Applications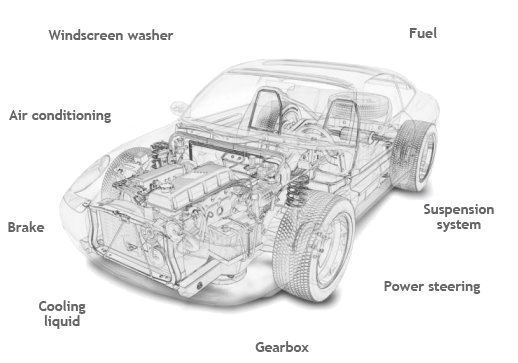 Complementary products
Fuel vapours extraction
This equipment is used for the extraction of fuel vapours during the filling phase of vehicles.
Diesel priming
The purpose of the equipment is to prime the Diesel vehicles after the filling in order to be able to start them in end of assembly line. A solution, in order to decrease the cycle time, consists of using a phase detector which stops the priming as soon as the fluid comes to the adapter. The priming time is optimized for each vehicle and the possible drifts are taken into account.


See the brochure "Diesel priming - Two-phase detector" (PDF)
R134a charging device "Poumon"
The purpose of the equipment is to fill the air conditioning system with the refrigerant R134a. Our filling system under constant pressure, "Poumon" mentioned, ensures the recovery of the R134a, a perfect tightness,...


See the brochure "Poumon" (PDF)
Degassing of the brake fluid
The aim is to degas the brake fluid before the filling phase so that the DOT 4 absorbs remaining air at the end of the evacuation.
Quality control of degassing the brake fluid DOT 4 "Eole"
This mobile equipment permits to measure the air content of the brake fluid.
Gearbox oil adapter
This adapter is equipped with a capillary tube making it possible to avoid any drop and with a sensor in order to check the good positioning of the adapter on the gear box.


See the brochure "Gearbox oil adapter" (PDF)
Humidity measurement in oil
The purpose of this sensor is to guarantee the reliability of the gear boxes thanks to an instantaneous measurement of moisture in oil.

Determination of alcohol content
For the measurement of the alcohol content of the engine cooling fluid and/or of the windscreen washer solution two methods are applicable: the measurement by ultrasonic or by refractometry.
Test facility for fill function
Our test facility for fill function is intended to ensure the periodic control of your installations...